1.- The Deal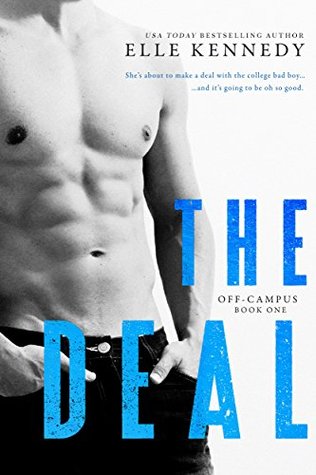 Ella está a punto de hacer un trato con el chico malo de la universidad...
Hannah Wells por fin ha encontrado a alguien que la encienda. Pero mientras que tiene confianza en cualquier área de su vida, acarrea un gran equipaje cuando se trata de sexo y seducción. Si quiere llamar la atención de su amor platónico, va a tener que salir de su zona de confort y hacerse notar... aunque eso signifique ser tutora del molesto, infantil y engreído capitán del equipo de hockey, a cambio de una cita falsa.
.
..Y, oh... va a ser tan bueno.
Todo lo que Garrett Graham siempre ha querido es jugar al hockey profesional después de la graduación, pero la caída de sus notas está amenazando todo por lo que ha trabajado tan duro. Si ayudar a una sarcástica morena a poner celoso a otro chico le ayuda a asegurar su posición en el equipo, está completamente dispuesto a hacerlo.
Pero cuando un inesperado beso conduce al sexo más salvaje de la vida de ambos, no pasará mucho tiempo para que Garrett se dé cuenta que de que fingir no les va a lleva a nada. Ahora sólo tiene que convencer a Hannah de que el hombre que ella quiere se parece mucho a él.
2.- The Mistake
Esta segunda entrega está protagonizada por Logan, un ligón acostumbrado a conseguir a cualquier chica a la que desee, y Grace, una chica dulce y encantadora pero no menos orgullosa: el cóctel explosivo está servido.Si quiere recuperar a su chica, va a tener que seducirla...
Logan conoce a Grace por casualidad. Metido a fondo en su papel de playboy, iba buscando a otra persona, pero acabó llamando a la puerta Grace y se encontró con una chica tierna, divertida... y para nada lo que Logan anda buscando.
Así que Logan rechaza a Grace. Error. ¡ERROR!
Ahora ella no quiere saber nada de él, pero Logan está dispuesto a lo que sea, LO QUE SEA, con tal de tener una segunda oportunidad. Chicos que saben lo que hacen. Chicas que saben lo que quieren. Risas, amor, y mucha, mucha tensión sexual.
Allie está en modo CRISIS. Está a punto de graduarse, no sabe qué hacer con su vida, y además acaba de dejarlo con su novio de varios años. Para colmo, en un momento de debilidad, pensó que enrollarse con Dean di Laurentis, el tío más guapo y más ligón del campus, era una idea genial.
Hay que reconocer que no estuvo mal. Nada mal. Pero su vida ya es suficientemente complicada sin sumarle además un rompecorazones.
Por mucho que Dean esté dispuesto a cualquier cosa con tal de no quedar sólo como amigos. Por mucho que, cuando la vida da un giro de 180 grados, Dean sea el chico capaz de permanecer a su lado…
Él cree en el amor a primera vista. A ella le va a costar un poco más...
Sabrina tiene un plan infalible para escapar de su pasado: graduarse, romper moldes en la facultad de Derecho y conseguir un trabajo bien pagado en una prestigiosa firma de abogados. Una noche de pasión, sorprendentemente tierna, es todo lo que puede darle a John Tucker, el rompecorazones que cree en el amor a primera vista.
Pero, a veces, una noche es suficiente para cambiar tu vida. Cuando Tucker descubre que Sabrina se ha quedado embarazada, sabe que es el momento de demostrar lo que vale. Si quiere una familia con la chica de sus sueños, tendrá que convencerla de que estará a su lado... hasta el final.
Chicos que saben lo que hacen. Chicas que saben lo que quieren.
Risas, amor y mucha, mucha tensión sexual.
Grax a Midnight Dreams y a Alejandra