0.1.- The Assassin and the Pirate Lord
Celaena Sardothien, temida asesina, ha sido enviada por el gremio de asesinos a una remota isla tropical a modo de castigo.
En un principio, Celaena es enviada para recaudar una deuda que contrajo con el gremio el señor de los piratas. Pero cuando se percata de que el pago no será en dinero sino en esclavos, su misión cambia repentinamente.
La asesina arriesgará absolutamente todo para arreglar el mal que hasta entonces haya ocasionado.
0.2.- The Assassin and the Healer
Conoce a la asesina: hermosa, desafiante, destinada a la grandeza. Celaena Sardothien ha desafiado a su maestro. Ahora ella debe pagar el precio.
Su viaje al Desierto Rojo será arduo, pero puede cambiar el destino de su maldito mundo para siempre…
0.3.- The Assassin and the Desert
Los asesinos del Desierto Rojo no hablan demasiado, pero Celaena Sardothien no ha ido hasta allí para sentarse a charlar con ellos, sino para mejorar su lucha y convertirse en la asesina a sueldo más temida del mundo.
Cuando las fuerzas de aquellos que quieren destruir a los asesinos del Desierto Rojo rompen el silencio del lugar, Celaena deberá encontrar un modo de pararlos. La asesina tendrá suerte si sale con vida del desierto.
0.4.- The Assassin and the Underworld
Cuando el rey de los asesinos encarga a Celaena Sardothien una misión especial que ayudará a acabar con la esclavitud en el reino, ella enseguida se pone manos a la obra para terminar con esta malvada práctica.
La misión resulta ser oscura y mortífera, llevando a Celaena desde las azoteas más altas de la ciudad hasta las más profundas cloacas.
0.5.- The Assassin and the Empire
La asesina Celaena Sardothien parece tenerlo todo: un lugar propio, el amor del atractivo Sam y, sobre todo, su libertad. Pero Celaena no será absolutamente libre hasta que se distancie definitivamente de su maestro Arobynn Hamel, así que Sam y ella deciden cometer un último asesinato que los liberará para siempre.
Y así es como Celaena aprende que tenerlo todo significa poder perderlo todo.
1.- Throne of Glass
Tras un año de trabajos forzados en las minas de sal, la joven asesina Celaena Sardothien ha sido convocada por el príncipe del Reino de Endovier. Celaena no ha acudido con la intención de acabar con la vida del príncipe, sino con el deseo de conquistar su libertad.
Si vence a veintitrés asesinos, ladrones y guerreros en una competición a vida o muerte, será liberada de prisión para ejercer como campeona real. El príncipe la aconsejará. El capitán de la guardia la protegerá. Pero algo maligno se esconde en el palacio de cristal, y está allí para matar.
Mientras sus competidores van muriendo uno a uno, la lucha de Celaena por conquistar su libertad se convierte en una lucha por sobrevivir y en una incesante búsqueda del origen del mal antes de que destruya el mundo.
La lealtad de una asesina siempre está en duda. Pero su corazón nunca titubea. Después de un año de trabajos forzados en las minas de sal de Endovier, la asesina de dieciocho años, Celaena Sardothien ha ganado el concurso de rey para convertirse en el nuevo asesino real.
Sin embargo Celaena está lejos de ser leal a la corona, un secreto que esconde incluso de sus confidentes más íntimos. Mantener la mortal farsa, mientras pretende cumplir las órdenes del rey, la pondrá a prueba de aterradoras formas, especialmente cuando se le da una tarea que podría poner en peligro todo lo que ha llegado a importarle.
Y hay fuerzas más peligrosas reuniéndose en el horizonte, fuerzas que amenazan con destruir su mundo entero, y que seguramente forzarán a Celaena a tomar una decisión. ¿Dónde yace la lealtad de la asesina, y por quién está más dispuesta a luchar?
3.- Heir of Fire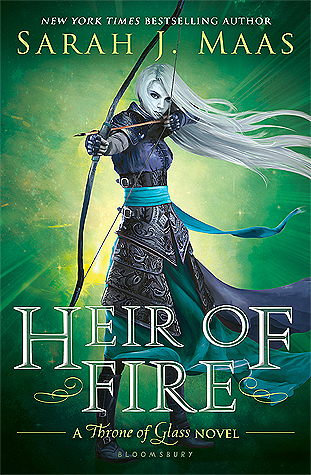 Celaena ha sobrevivido a concursos mortales y a un catastrófico desamor, pero a un coste indescriptible. Ahora, ella tiene que viajar a una nueva tierra para enfrentarse a su realidad más oscura…una verdad... acerca de su herencia que podría cambiar su vida y su futuro para siempre.
Mientras tanto, fuerzas brutales y monstruosas se están reuniendo en el horizonte, con la clara la intención de esclavizar a su mundo. ¿Será Celaena capaz de encontrar la fuerza para no sólo luchar contra sus demonios internos, sino a asumir la responsabilidad del mal que está a punto de ser liberado?
La serie éxito de ventas que ha capturado a los lectores de todo el mundo alcanza nuevas alturas en esta secuela del best-seller New York Times Corona de medianoche. Repleto de acción trepidante, nuevos personajes feroces, y desmayos dignos de romance, este tercer libro cautivará a los lectores de principio a fin.
Todos aquellos que Celaena Sardothien ama han sido apartados de su lado. Pero al fin ella a retornado al imperio, por venganza, a rescatar al una vez glorioso reino, y para hacerle frente a las sombras de su pasado...
Ella va a luchar por su primo, un guerrero dispuesto a morir solo por verla de nuevo. Va a luchar por su amigo, un joven atrapado en una abominable prisión. Y va a luchar por su pueblo, esclavizado por un brutal rey que está esperando el regreso triunfal de su perdida reina.
El viaje épico de Celaena a capturado corazones y la imaginación de millones a través del mundo. En este cuarto volumen sostendrá absorto a los lectores en como la historia de Celaena se va construyendo en un apasionante, agonizante crescendo que solo podría terminar destruyendo su mundo.
El largo camino hacia el trono acaba de empezar para Aelin Galathynius. Lealtades han sido rotas y compradas, se han perdido y ganado amigos, y aquellos que poseen magia se encuentran en desacuerdo con aquellos que no la tienen.
A medida que los reinos de Erilea se fracturan a su alrededor, los enemigos deberán convertirse en aliados si lo que realmente quiere Aelin es mantener a los que ama a salvo de caer en manos de las fuerzas oscuras que están a punto de reclamar su mundo. Con la guerra cerniéndose sobre todos los horizontes, la única posibilidad de salvación está en una desesperada búsqueda que puede marcar el final de todo lo que le importa a Aelin.
El viaje de Aelin de asesina a reina ha fascinado a millones de lectores en todo el mundo, y esta quinta entrega dejará sin aliento a los aficionados. ¿Conseguirá Aelin que su mundo no se rompa, o todo se derrumbará?
Grax a Cazadora de historias y Traducciones independientes