1.- The Mighty Storm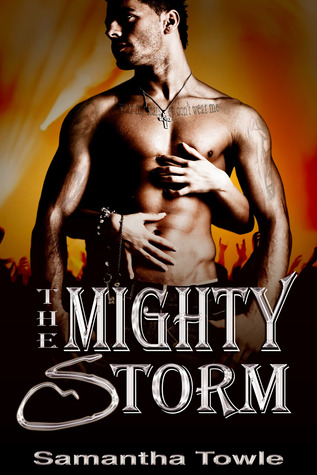 Ya han pasado doce años desde que Tru Bennett vio por última vez a Jake Wethers, su ex mejor amigo y el chico que una vez amó.
Jake Wethers, el sexy y tatuado vocalista deliciosamente malo, y el cerebro detrás de The Mighty Storm, uno de los grupos de música más exitosos del mundo, dejó a Tru con el corazón roto cuando se mudó de Inglaterra a Estados Unidos con su familia cuando ambos tenían catorce años. Cuando la envían para entrevistar a Jake para su columna de música por la revista para la que trabaja, ninguno de los dos está preparado para las chispas que vuelan en el instante en que se vuelven a encontrar.
Solo hay una complicación para los sentimientos instantáneos del uno por el otro, Will, el novio de Tru desde hace dos años. Entonces Jake hace una oferta de trabajo a Tru que no pueda rechazar: Viajar por el mundo con él y su grupo. Aceptar el trabajo significa dejar atrás a Will y estar en la carretera con el grupo, lo que significa estar mucho tiempo con Jake.
¿Es Tru lo suficientemente fuerte como para resistirse el delicioso chico malo por el que una vez perdió el corazón, o va a arriesgarlo todo voluntariamente por una noche con el mujeriego más famoso del mundo?
2.- Wethering the Storm
La periodista de música Tru Bennett ha hecho lo imposible: capturar el corazón del chico malo y estrella de rock, Jake Wethers. Ahora están ocupados planeado una boda y armando su nueva vida juntos en los EE. UU. Por supuesto, Tru echa de menos Londres y a su mejor amiga, Simone, pero vivir feliz para siempre con Jake en Los Ángeles va a ser estupendo... ¿no? Error.
Incluso el brillante sol de California no puede encubrir el lado oscuro de la célebre convivencia de la pareja. Ejecutivos de música codiciosos, paparazzis despiadados y el pasado salvaje de Jake están al acecho en cada esquina. Para empeorar las cosas, Jake anuncia que no quiere hijos, lo cual puede ser motivo de ruptura.
Tru ama a Jake más que nada. Pero cuando una devastadora crisis amenaza con destruir todo por lo que han luchado, la pareja debe enfrentar la dura realidad: ¿qué pasa si en esta ocasión el amor no es suficiente?
3.- Taming the Storm
Lyla Summers odia a los hombres. Bueno, tal vez odiar sea una palabra fuerte...
Digamos que a Lyla le disgustan inmensamente los hombres. Su padre la ha defraudado toda su vida. Su hermano la traicionó de la peor manera posible. Y sus últimas relaciones con hombres no han sido muy geniales. Lyla centra toda su energía en su banda, Vintage, así que cuando reciben una oferta para firmar con TMS Records, parece que las cosas finalmente están yendo por buen camino. Lo último que quiere es un hombre en su vida.
Tom Carter ama a las mujeres. Está bien, decir que las ama podría significar otra cosa...
Digamos que Tom disfruta follando a un montón de mujeres. Cuando la tragedia alcanza a su mejor amigo, Tom le hace una promesa al de Arriba de que va a cambiar su vida si salva a la mujer a la que su mejor amigo ama. La oración de Tom es contestada. Ahora tiene que cambiar. Lo que significa no ir de cama en cama. Después de que el manager de Vintage se rompa la pierna esquiando, Tom interviene como manager de la gira, y Lyla se encuentra en una gira con un gigoló.
Pon a un Tom perpetuamente caliente y agrega a una Lyla resistente al sexo, y conseguirás una receta para el desastre. O al menos eso se podría pensar... Pero, en cambio, se forma una inesperada amistad. Una cercanía que ninguno de ellos esperaba. ¿La tormenta sexual que es Tom Carter finalmente se encontrará domado por la chica con el corazón endurecido, o volverá a ser un mujeriego...?
Grax a

Fallen Angels