1.- The Girl of Fire and Thorns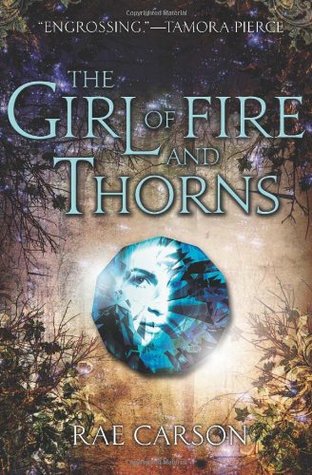 Una vez cada siglo, una persona es elegida para la grandeza.
Elisa es la elegida. Pero también es la más joven de dos princesas, la única que nunca ha hecho nada notable. No puede ver cómo lo hará. Ahora, en su decimosexto cumpleaños, se ha convertido en la esposa secreta del apuesto y mundano rey—un rey cuyo país está en crisis.
Un rey que necesita a la elegida, no a un fracaso de princesa. Salvajes enemigos que practican magia oscura están cazándola. Un audaz revolucionario está determinado en que ella podría ser la salvadora de su pueblo. Y él la mira de una manera que ningún hombre la ha mirado alguna vez antes.
Pronto no sólo su vida, su corazón también estará en juego. Elisa podría ser todo aquello que más necesitan. Si la profecía se cumple. Si encuentra su poder escondido dentro de ella. Si ella no muere joven.
Grax a

Cazadora de Historias