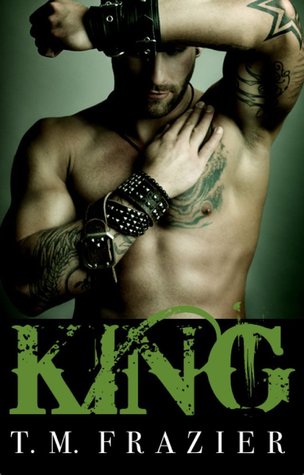 Sin hogar, hambrienta y lo suficientemente desesperada como para robar, Doe no tiene ningún recuerdo de quién es ni de dónde viene. King, un notorio criminal que acaba de salir de prisión, es alguien con quien no quieres cruzarte a menos que estés dispuesto a pagarle con sangre, sudor, sexo, o una combinación de los tres.
El futuro de King pende de un hilo. El de Doe está escrito en su pasado. Cuando ambos se encuentren, aprenderán que a veces para mantener el control, tienes que ser el primero en sacrificarte.
ADVERTENCIA:

Este libro contiene violencia gráfica, sexo consensual y no consensual, uso de drogas, abuso y otros temas tabú y temática adulta.
Recuerdo todo. Ahora quisiera no hacerlo. Cuando la neblina es alejada de mi mente como el humo del vació, la verdad que ha estado mas allá de mi alcance durante meses finalmente se revela. Pero el alivio que pensé que nunca sentiría viene, y ahora tengo mas miedo del que tenia cuando estaba esposada a la cama de King.
Porque con la verdad vienen oscuros secretos, que nunca tuve intención en saber. Pondré en riesgo las vidas de aquellos a los que mas amo si digo que mi memoria a regresado. O si pido ayuda al criminal tatuado que posee mi cuerpo y alma.
No se si soy lo bastante fuerte para resistir el tirón magnético hacia King que crece mas cada día. El ya me a salvado en mas de una manera. Ahora es mi turno de devolverle el favor. Incluso si eso signifique casarme con alguien mas.
3.- Lawless
Thia es remilgada y decente.
Bear es todo cuero y sin ley.
Nunca funcionará entre ellos.
Es una mentira que ellos casi creen...
4.- Soulless
Soulless, segunda parte de Lawless.
EL final de la épica historia de amor de Bear y Thia.
5.- Preppy: The Life & Death of Samuel Clearwater (Parte I)
A Samuel Clearwater, alias Preppy, le gustan las pajaritas, los panqueques, los tirantes, los buenos amigos, los buenos momentos, las buenas drogas y las buenas fo***das. Ha trabajado su camino fuera de una infernal infancia y está viviendo la vida que siempre imaginó tener.
Cuando conoce a una chica, una drogadicta al borde de acabar con todo, está confundido entre sus sentimientos por ella y el paralizante miedo de que pudiera ser la que termine con la vida que ama. Andrea 'Dre' Capulet está enganchada y cansada.
Cansada de vivir por su siguiente dosis.
Cansada de hacer cosas que hacen que su estómago se revuelva Cansada de ver en el espejo al reflejo de la persona en la que se ha convertido. Justo cuando decide acabar con todo conoce a un hombre que cambiará el curso de sus vidas para siempre. Y sus muertes. Para la mayoría, la muerte es el final de su historia.
Para Preppy y Dre, la muerte es sólo el comienzo.
6.- Preppy: The Life & Death of Samuel Clearwater (Parte II)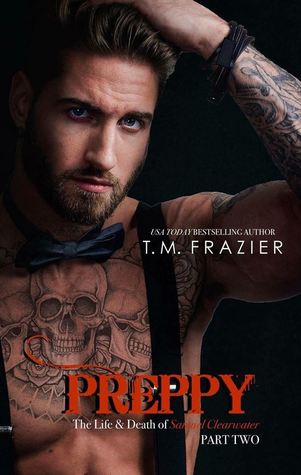 Samuel Clearwater, alias 'Preppy' se encuentra en un mundo que alguna vez amó pero que ya no reconoce. Su débil sonrisa no puede ocultar su agitación interior, y la gente que él ve como familia de repente los siente como educados extraños. Excepto por una persona.
Una chica con oscuros ojos e incluso un pelo más oscuro aún. Una chica que ni siquiera es una opción. Al menos, ya no. Dre no puede decidir a quién escuchar. A su corazón, su cabeza o su cuerpo debido a que dos de esas tres cosas la han llevado de vuelta a Logan's Beach.
Se dice a sí misma que lo que estaba buscando era un final, pero cuando abre puertas que nunca fueron destinadas a ser abiertas pronto descubre que cuando se trata de Samuel Clearwater, un final nunca podría ser una opción.
7.- Preppy: The Life & Death of Samuel Clearwater (Parte III)
¡La pajarita ha vuelto!
Dre era sólo una hermosa desconocida cuando Preppy la salvó la primera vez. Ahora tiene que salvarla de nuevo, pero ya no es una desconocida, ahora es familia, y él no tiene ni idea contra quién o qué se enfrenta.
Lo que sí sabe es que su familia esté junta de nuevo es el único resultado aceptable. ¿La lista de cosas por hacer de Preppy? Salvar a la familia. Buscar venganza.
Él está vivo... y está buscando sangre.
Grax a Eyes of Angels

,

Books Machine, Cómplices de la lectura y Tania