Durante dieciséis años, Alyssa Gardner ha vivido con el estigma de ser la descendiente de Alice Liddell —la inspiración real para la famosa novela de Lewis Carroll, Alicia en el país de las Maravillas. Pero las bromas crueles sobre lirones y fiestas de té no se pueden comparar con el hecho de que Alyssa escucha los susurros de insectos y las flores... la misma peculiaridad que envió a su madre a una institución mental años atrás.
Cuando su madre da un cambio para peor y los susurros se vuelven demasiado fuertes como para que Alyssa pueda soportarlos, busca los orígenes de la maldición de su familia. Un conjunto de reliquias y una polilla vinculada a un inusual sitio web, conduce a Alyssa y a su maravilloso mejor amigo/amor secreto, Jeb, por el agujero del conejo al verdadero País de las Maravillas, un lugar más retorcido y misterioso de lo que Lewis Carroll nunca llegó a entender.
Allí, los espeluznantes homólogos del reparto original del cuento de hadas revelan el propósito del viaje de Alyssa, y a menos que resuelva los problemas que su tatara-tatara-tatara abuela, Alice, dejo en el País de las Maravillas, le cortaran la cabeza.
1.5-. The Moth in the Mirror
Una historia corta de la serie
Splintered
contada desde los puntos de vista de Jeb y Morfeo. Morfeo quiere saber más sobre su rival amoroso de Alyssa, así que entra en los recuerdos de Jeb en el País de las Maravillas. Pero puede sorprenderse con lo que vaya a encontrar.
Alyssa Gardner bajó por el agujero del conejo y enfrentó al bandersnatch. Salvó la vida de Jeb, el chico que ama, y escapó de las maquinaciones del inquietantemente seductor Morfeo y la vengativa Reina Roja. Ahora todo lo que tiene que hacer es graduarse de la preparatoria y lograr llegar al baile de graduación para poder asistir a la prestigiosa escuela de arte londinense con la que siempre ha soñado.
Eso sería más sencillo sin su madre —recientemente dada de alta de un manicomio— actuando de manera sobreprotectora y sospechosa. Y sería mucho más sencillo si el misterioso Morfeo no se apareciera un día en la escuela tentándola con otra peligrosa búsqueda en el oscuro e inquietante País de las Maravillas, al que ella (parcialmente) pertenece.
Mientras el baile y la graduación se acercan, Alyssa hace malabares con la presencia inquietante de Morfeo en su mundo real, e intenta contarle a Jeb la verdad sobre un pasado que él ha olvidado. Destellos del País de las Maravillas comienzan a rezumar en su arte y en su mundo de manera perturbadora, y Morfeo advierte que la Reina Roja no está muy lejos.
Si Alyssa se queda en el reino humano, podría poner en peligro a Jeb, a sus padres, y a todo el mundo a quien ella quiere. Pero si vuelve a pasar por el agujero del conejo, se enfrentará a una mortal batalla que podría costarle más que solo su cabeza.
3-. Ensnared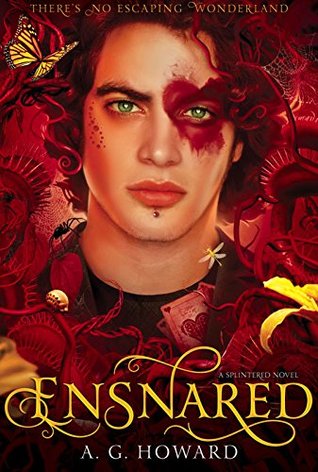 Después de sobrevivir a la desastrosa batalla del baile de fin de curso, Alyssa finalmente ha aceptado su locura y ha ganado mucha perspectiva. Está decidida a salvar sus dos mundos y a la gente y las criaturas de las profundidades a las que tanto quiere, aunque eso suponga desafiar a la Reina Roja a una batalla definitiva de deseos y engaños.
Pero ahora el único camino hacia el País de las Maravillas, ya que la madriguera del conejo está cerrada, es el mundo a través del espejo... una dimensión paralela llena de proscritos mutantes y sádicas criaturas de las profundidades.
En esta última entrega de la trilogía, Alyssa y su padre viajarán al corazón de la magia y el caos para buscar a su madre y para arreglar todo lo que está mal. Junto con Jeb y Morfeo deberán salvar el País de las Maravillas de la decadencia y la destrucción en el que se encuentra atrapado. Pero aunque tengan éxito y salgan con vida, ¿podrán tener todos su final feliz?
Grax a

Libros del Cielo